Search and Rescue
In the aftermath of tornadoes that impact states, search and rescue resources can be one of the first called to report to service.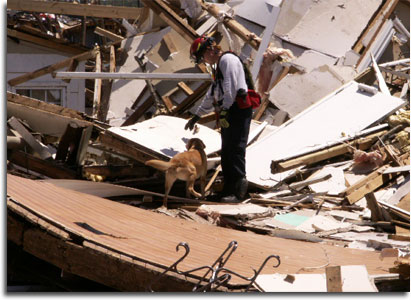 Through EMAC, 146 search and rescue personnel from Louisiana, Florida, and Tennessee responded to Alabama to conduct search and rescue and recovery missions after being requested by the Alabama State Emergency Management Agency.

In the aftermath of an EF-5 tornado touched down in Joplin, Missouri, 15 search and rescue/recovery personnel with canines were deployed from Nebraska, Iowa, Illinois, and Texas.  This devastating tornado grew to as much as three-quarters of a mile wide, before returning to about a half-mile in width, The track was 13.8 miles long, hitting major businesses and commercial areas and thousands of homes.


EMAC's Benefits
Fast and Flexible Assistance

All Hazards - All Disciplines

Resources deploy through the state emergency management agencies of their respective states allowing for a coordinated deployment

Deployments are coordinated with the federal response to avoid duplication and overlap
Learn more about EMAC's Legal Protections by selecting from one of the options, below.