Utilizing Public Health and Medical Mission Ready Packages: Operation Helping Hand
In a tabletop exercise (TTX) through a facilitated discussion, players will drive the action of the exercise, while observers witness the decisions made and processes followed. This exercise will simulate the decision making, deployment, and reimbursement processes that would occur for the deployment of a Mission Ready Package (MRP) under the Emergency Management Assistance Compact (EMAC). An actual event of this nature would necessitate the involvement of additional response partners and activities that are not included in this exercise.
Validate the processes detailed in your state's EMAC Procedures for evaluating, responding to, and seeking reimbursement for MRPs deployed under EMAC.
Describe how information will be shared between relevant departments for an incoming MRP resource request.
Discuss the process and threshold for deploying a requested MRP.
Validate roles and responsibilities during an MRP resource request within your state public health agency.
Discuss redundant points of contact for all of your state's public health and medical MRPs.
Describe the processes necessary for seeking reimbursement following a deployment for both the deployed personnel and the key internal staff. 
Learn More About EMAC & Public Health and Medical from Past Webinars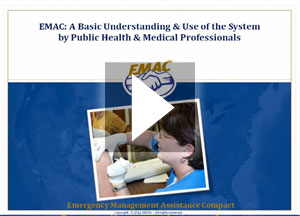 In cooperation with the Association of State & Territorial Health Officials and the National Association of County & City Health Officials, NEMA has developed two Webinars focused on EMAC and public health and medical professionals. 

First, learn EMAC basics through the 47-minute video "EMAC:  A Basic Understanding & Use of the System by Public Health & Medical Professionals." This session was delivered by Leon Shaifer, EMAC Senior Advisor.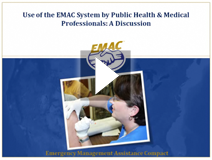 Then watch "Use of the EMAC System by Public Health & Medical Professionals: A Discussion," a 57-minute session with panelists Mary Duley (RN, MA), Kathy Robinson (RN, EMT-P), and Martha Salyers (MD, MPH, CEM). Leon Shaifer facilitates this session.



Get started with a Mission Ready Package Template
Get started building a Mission Ready Package with one of our tested templates!
EMAC's Benefits
Fast and Flexible Assistance

All Hazards - All Disciplines

Resources deploy through the state emergency management agencies of their respective states allowing for a coordinated deployment

Deployments are coordinated with the federal response to avoid duplication and overlap
Learn more about EMAC's Legal Protections by selecting from one of the options, below.